Argentina
---
ARGENTINA is a vast country that measures 5000km by 1500km and, even without including the titanic wedge of Antarctica that the authorities are wont to include in the national territory, it ranks as the world's eighth largest state, immediately behind India. Thanks to its longitudinal position, standing between the Tropic of Cancer and the most southerly reaches of the planet's landmass, the country encompasses a staggering diversity of climates and landscapes. Despite it's massive area, the population of 33 million weighs in at far less than Spain's.
Canadian Embassy, Tagle 2828, Buenos Aires
Australian Embassy, Villaneuva 1400, Buenos Aires (tel:011/4777-6580)
New Zealand, Carlos Pellegrini 1427, 5th Floor, BA (tel:011/4328-0747)
UK, Dr Luis Agote 2412, BA (tel:011/4803-7070)
USA, Av.Columbia 4300, BA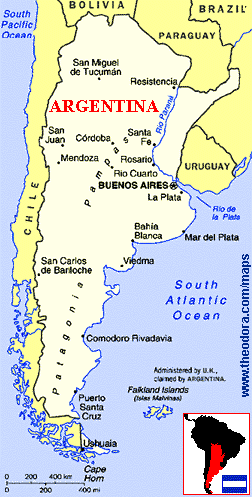 Maps courtesy of www.theodora.com/maps used with permission.

---
Relatively GOOD NEWS! Argentina has now become an incredibly affordable place to visit. During the first time I was there (2001-2002), Argentina was very expensive for a Canadian since the peso was pegged to the US$. Nowadays the peso has devalued to almost 3ARS:1US, but the number value of goods and services has remained the same. This means dinners that used to cost $20 US now cost $7 US! We highly recommend visiting Argentina, and not only because of the economics involved; the culture, people and natural wonders are fantastic. You will definately not feel disappointed when you leave, unless you run out of time (the country is huge!)
Relatively BAD NEWS! I finally got hit by the pickpockets, using the oldest trick in the book, no less. I guess I was about due, considering I haven't had any other problems on all the other trips. But, they (a man and a woman) did the old throw some crap on you and help to clean you up while relieving you of your cash. It wouldn't have been so bad except that the stuff they threw on me really, REALLY smelled - and I was in BA waiting for my next flight. Ergo, I smelled foul until I got to my hotel room 4 hours later.
There is another currency called BONOS and another called LECOP. They work the same as regular money, except for the fact that the banks do not accept them (essentially they are not legal tender). You can pay for taxis, remises, restaurants, etc. with them without any problems. Note that some provinces have their own BONO, and you cannot use one province's BONOS in another. Tucuman has since cancelled their Bonos, and as such small change is really hard to get a hold of.
---
Transportation
Ministro Pistarini Airport (aka Ezeiza)
All international flights (except for a few from Uruguay) arrive at Ezeiza airport, located 35km outside the city of Buenos Aires (BA). The airport is fairly modern and the tourist information kiosk is friendly and helpful and located virtually in front of the arrival door.

Welcome to Argentina - a taxi into the city or to Aeroparque will cost you $40US. You can use the minibus/shuttle bus for a more reasonable $18US. Use only official agencies like Manuel Tiende Leon. They are located (again) right outside the arrival door.
Aeroparque Jorge Newbery (aka Aeroparque)
Most domestic flights and some internationals (Uruguay, Brazil, Paraguay) arrive and depart from this small airport located 6km from the city centre. Manuel Tienda Leon and others can get you between Ezeiza and Aeroparque and the city centre. A taxi from the centre to Aeroparque costs around $12US.

Domestic Airlines include Dinar, Aerolineas Argentinas, Southern Winds and LAPA. For some stupid reason, they all seem to depart at the same time when they are going to the same destination (e.g. BA to Cordoba: 3 flights will leave within 20 minutes of each other and no others will be available until the cycle repeats itself in the evening.)
Taxis and Remises
Generally speaking, a remis is like a taxi except that there are fixed rates between destinations and these are well known and posted. i.e. from airport to centre. They are usually a better trip for medium to long distances within a city. Otherwise, a taxi works just fine. Just make sure to know some of the intracacies and details. For example, in Tucuman, all taxis give a 30% discount off the metered fare. Generally the conversion (including the discount) is posted within the taxi but occasionally you will find them missing.

For those going to Buenos Aires there was a newsprogram on TV recently that showed how taxi drivers in BA rip off customers. They have a little button or string that they pull that makes the meter go up and so you don't end up paying a certain price per kilometre. I don't know how you go about picking up on this, but if you notice the fare going up erratically or quickly then chances are they are trying this tactic on you. There are also fake taxis that look just like the real thing. They also use a tape of radio conversations to make you think everything is kosher.
---
Buenos Aires
BA Secretaria de Turismo - Official site with a lot of information on, what else, Buenos Aires.
At the present I don't have much info on BA - I tend to go from one airport to the other and see it from the air. Check back as more info becomes available.
I did have the chance to take a few pics.
---
Misc. Info
The siesta is a way of life. Most cities shut down between 12 and 4 or 5pm and on Sundays don't expect much of anything to be open.
Argentinians have a different perception of time. For example, 9am means sometime between 8 and noon. Noon means anytime during daylight hours and any reference to a time later on (i.e. "this afternoon" or "tomorrow morning" basically means nothing at all except that it will NOT be "this afternoon" or "tomorrow morning". It takes time to get used to, and it will really drive you bananas. Try working here.
Tourists generally get a 3 month visa. If you exceed your visa you have to pay a $50 fine. It doesn't matter whether it is a week or 6 months, the fine remains the same. It is easier to pay a fine than trying to get your stay extended within the country. And usually cheaper too.
Teaching english in BA is a popular activity for ex-pats. The BA Herald usually has the best classified listings for it.
---
Tucuman
San Miguel de Tucuman is Argentina's 4th largest city 1190km northwest of BA. It has been compared to a European city caught in a time-warp. The capital of a tiny but heavily populated and sugar-rich province,Tucuman is by far the biggest metropolis in the Northwest. It has a heavy duty nightlife, but few attractions to keep you here for long - unless you have to work here.
As usual, orientation is simplified by the regular grid system; streets change name on either side of Avenida 24 de Septiembre, the street running past the cathedral, and change name twice as they go from west to east, first at avenidas Mitre and Alem, and again at avenidas Avellaneda and Saenz Pena.
The new bus station is modern and clean and is located fairly close to the Plaza Independencia and is next to Parque 9 de Julio. Among other things, it contains a supermarket, casino and various clothing shops.
Plaza Independencia is the city's focal point. in the southeast corner of the square is the mid-19th century Neoclassical Cathedral. On the western side of the square is the imposing early 20th century Casa de Gobierno. Next to it, almost crushed by the tall buildings on either side, is the tiny facade of Casa Padilla, a typical elongated casa chorizo (literally sausage house) that stretches back from a relatively tiny street frontage. At the corner of 25 de Majo and Cordoba is one of Argentina's most impressive post offices. 7 blocks east of Plaza Independencia is Tucuman's enormous Parque 9 de Julio.
The nightlife centres around the Microcentro, along Av. 25 de Majo, or in suburban Yerba Buena. Some of my favourite spots are:
Il Postino - Excellent pizza's, located across from the Post Office.
Zukursaal - Excellent pasta's and other fine food, on the southern edge of Plaza Urquiza
Bar Las Palmas - A popular place for a drink, especially during nice weather (Av. 25 de Majo)
Los Negros - a fancy Parrillada (i.e. BBQ type version of All-you-can-eat for one price, where the menu is MEAT MEAT MEAT) (Av. Laprida)
Millenium - A hugely popular bar/restaurant out in Yerba Buena
Cafe 25 - A nice place for a coffee, overlooking 25 de Majo
Nonna Petruscia - A very good Italian restaurant located out of the downtown but close to my hotel. (Munecas 2267)
There is a variety of accomodation here, but most hotels will charge between $30 and $60 per night for a single. For those (like me) that have expense accounts, don't think that a higher price gives you any sort of luxury accomodation. In fact, I have yet to stay in a hotel or seen a hotel (not including 5 stars) that exceeds the comfort of my small little motel room (with TV, AC, and attached bath) at the ACA Motel (Av. Salta and Mejico). The family run motel is very friendly and the only complaint is that it is a good 25 minute walk to the Microcentro. For other places just remember that prices rise (sometimes double) in the summer holiday season. There is a youth hostel on Junin 580 (attached to the Hotel Miami).
---
Misc. Info
Internet Cafes are popping up all along 25 de Majo and you can also find computers in the Telecabinas run by the Phone company.
Also, people go out to eat at a very late hour, even during the week.
All taxis give a 30% discount on the fare. There are official cards and stickers that show you the rates. All the cab drivers that I have encountered have been quite honest. Eventually you'll know how much each fare will be before you get in, and don't bother arguing over 25 centavos.
---
Photos
The following pics are from a trip to Ancajuli, which is a small spot in the mountains. I was lucky enough to get a small airplane flight in (there are no roads, but you can take a horse, which will take you around 8-10 hours).
---
Salta
"Salta the Fair" is located about 300km north of Tucuman and is the capital of the province of Salta. It is much smaller and cleaner than Tucuman and is set up much better for tourists. The compact microcentro means you don't have to really use taxis unless absolutely necessary and a lot of things are close enough to each other to allow you to see things at your own pace. Salta is located in the Valle de Lerma, and in times past a cable car would take you up the mountain/hill for a very nice view. At the present time however, it is being renovated and there is no word as to when it will be up and running.
Many visitors to Salta speed around the city and then head off to the major attractions of the Quebrada del Toro - often on the Tren a los Nubes (Train to the Clouds) and the Valles Calchaquies.
Salta's Airport is about 10km southwest of the city centre. A taxi to the centre will cost around $10 while Bus #22 runs between the airport and central Avenida San Martin. Flights from BA arrive regularly and flights are also available to Santa Cruz in Bolivia.
The small user-friendly bus terminal is in the process of being renovated and is located just east of the Parque San Martin, five blocks south and eight east of central Plaza 9 de Julio. There is a small information office there, as well as the Provincial one at Buenos Aires 93 and the city one at the corner of Buenos Aires and San Martin.
---
Salta Photos
Doorway - the tile detailing is typical for Salta (it reminds me of the islamic tiling seen in Turkey)
---
Cafeyate
I went to here for a day and ended up staying for 3 - mainly because the buses to Tucuman do not go at regular times during the "winter". My choices were 3am or 6:30am. I decided to take the 3am and it only took 5 1/2 hours! The town is in a beautiful section of the mountains kind of between Tucuman and Salta and is known for it's many vineyards. It's also a pretty little town and the local wine, with a particular variety of white called "Torrontes" is very very good. Bodegas Etchart and Michel Torino are two of the best. There is also some nice scenery to look at just on the outskirts of the town, which is what I did along the Rio Colorado, which apparantly had some waterfalls, although we didn't find any. There is a small tourist kiosk in the main square which can give you most if not all the information that you require.
---
Cafeyate Photos
Hiking along
the Rio Colorado
produced
the following
photos. It is
difficult to get
any sense of perspective but the hills are quite high