Rocky & Sarah's Travel Diary

Toronto, Canada
---
Hollywood North, Hogtown, the Big Smoke, T.O., all names for the Capital of the province of Ontario, in southeastern Canada. It has the most populous metropolitan area in Canada and, as the most important city in Canada's most prosperous province, is the country's financial and commercial centre. Its location on the northern shore of Lake Ontario, which forms part of the border between Canada and the United States, and its access to Atlantic shipping via the St. Lawrence Seaway and to major U.S. industrial centres via the Great Lakes have enabled Toronto to become an important international trading centre. In the second half of the 20th century the city grew phenomenally, from a rather sedate provincial town--"Toronto the Good"--to a lively, thriving, cosmopolitan metropolitan area.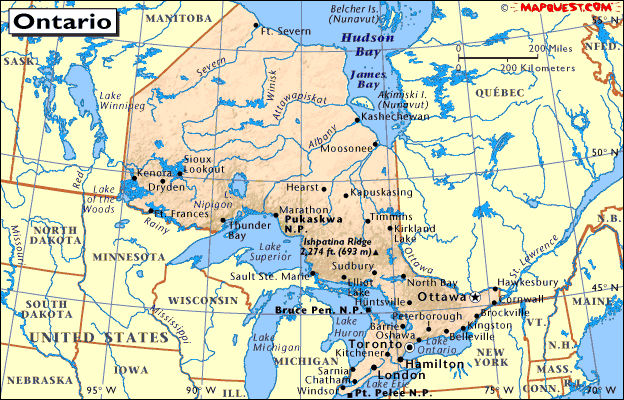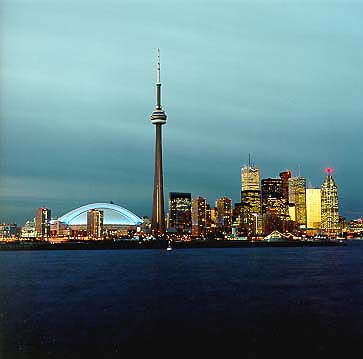 ---

We grew up in Toronto, although we moved to Ottawa in 2002, we still think that Toronto is highly underrated. There isn't too much info that we will add since there are a number of very good quality web sites that can give you all the information that you desire, and then some. If you will be visiting, please note that in the winter it can get cold, and in the summer it can get very hot. The climate gives you both extremes. Enjoy
---
Toronto Information Links
The Toronto Star Online - The leading newspaper that gives you local and national news, as well as movie listing, etc. etc.
Toronto.Com - A Complete Information Site on all things T.O.
City of Toronto - The Municipal Government Site
Toronto City Guide and Info - An excellent site that has everything that you might need. This site is the biggest reason that I am not writing a lot. They have it all.
eye Magazine - A free entertainment and info magazine available in Toronto. A good read along with NOW which is the same type of rag.
---
TRANSPORTATION
Public transit in Toronto is called the TTC (Toronto Transit Commission) . The core of the system is the two subway lines. One line is U-shaped, in effect providing two north-south routes: it runs south along Yonge Street from Finch to King, then turns sharply past Union Station and continues north along University Avenue, Spadina Road, and William R. Allen Road (with diagonal bits in between) to terminate at Downsview station on Sheppard Avenue.
The other subway line runs east-west, following Bloor Street and Danforth Avenue from Kipling (Kipling station is actually on a side street, Aukland Road) as far as Victoria Park Road, then angling northeast to Kennedy station, at Kennedy and Eglinton. Continuing north and then east from there to McCowan Road (south of highway 401) is a feeder rail line called the Scarborough RT. Its stations are operated like subway stations, so where you see "subway station" in this writeup, it really includes the RT.
During the overnight hours when the subway is closed, the regular surface routes also shut down and a skeleton system of special surface routes operates throughout the city. These are called the "Blue Night Network". Regular fares apply. Most routes run every 30 minutes; Yonge Street has more frequent service, as does Bloor for part of the night.
Every subway station has at least one staffed entrance where a person will take cash fares, sell tickets/tokens/passes, give out maps, and answer questions (if they have time). At busy stations where there is a line at the fare booth, additional staff may be working outside the booth and can help you with fares and questions. At some stations, less busy entrances are automatic; if you don't have a token, you must buy one (or more) from a machine, or else go back out and find the station's main entrance.
Surface route drivers do not make change or sell tickets/tokens/passes. Tickets and tokens can be purchased at subway stations and at many convenience stores -- look for the "TTC Exact Fare" sign.
Transferring between routes is free; your trip can involve as many TTC vehicles as it takes to reach your destination by a reasonable route. If you will need to take more than one route or mode (subway/RT, bus, streetcar), get a "transfer" (a paper transfer ticket) at the place where you pay your fare -- from the driver of the bus/streetcar, or at an automatic machine just past the subway station turnstiles). Keep the transfer with you and show it to the driver or fare collector when you change.

GO Transit operates intercity commuter trains and buses in an area extending well beyond Toronto.
---
PICTURES
These are some pictures from the Annual Canadian National Exhibition (CNE) held in T.O. at the end of August. It is the traditional "end of summer" event and is always a nice way to spend some time. During the final 3 days of the CNE there is an excellent Air Show along Lake Ontario. Unfortunately, we were not around for it.
The "Ex" is also the site of the Molson Indy, which is held every summer before the Ex. The grounds are also the location of the Annual Sportsmen's Show, among other things.
---
Budget Accomodation
There is at least one hostel downtown, at the corner of Queen St. and Bathurst (I think). It's in an excellent location, but I don't know the exact address or anything. I don't assume downtown accomodation is very cheap, although when you compare the CDN$ with the US$ and the British pound, you get excellent value for your money. Toronto.com will have a great selection and location maps for you to peruse.
---
Personal Thoughts

For things to do I would suggest heading to the Toronto Islands, Bloor West Village, Yonge Street (longest street in the world), Queen West, Kensington Market, and the Danforth to name a few. Hang out, have fun, people are quite willing to help you out whenever you need it. No matter what you look like, you'll blend in T.O. As an amusing side note, we have considered buying a guide book for Toronto, just to see what we have been missing. It's a big city (not the biggest by any means), but there is a lot that you can do.
If you have the money, then by all means go see a Toronto Maple Leafs Hockey game at the Air Canada Centre. These games are sold out. Period. The only way to get tickets is to pay enormous amounts from ticket scalpers outside the arena. Expect to pay at least $100-200 CDN for a seat. An interesting thing is that during the hockey playoffs, held in the Spring, if the Leafs are in it, every bar will be packed during the games. As they get further into the eliminations, the streets get emptier and emptier (while the game is on). It is an eerie thing to experience. But they haven't won the Championship in 34 years and everytime they get close, they blow it.
There are many more options for sports fans. The Toronto Rock lacrosse team showcases Canada's national game (and you thought it was hockey). They also play in the Air Canada Centre. Tickets are much less expensive and the atmosphere is very enthusiastic. The Toronto Blue Jays play baseball and the Argonauts play football at the SkyDome. Tickets for these teams are readily available at ticketmaster or the box office.
THere are of course a number of other sporting events going on such as horse racing, minor league baseball, hockey, and soccer. Toronto.com will give you a much more exhaustive list. The ones mentioned are ones that WE would attend.
The Art Gallery of Ontario (AGO), Royal Ontario Museum (ROM), Ontario Science Center and Metro Toronto Zoo are all other enjoyable options for excursions.
Don't forget the World Famous Toronto International Film Festival, the Downtown Jazz Festival, The International Beaches Jazz Festival, North x Northeast Music Festival.
If you like to eat, then T.O. has everything that you've ever asked for. From fantastic street corner sausage to equisite dining, from Middle Eastern to African to Italian to Chinese, you name it, you can find it. Easily.
For nightlife, way back when I USED to go out a lot, we would head to Sneaky Dees, the Phoenix, Whiskey Saigon or the Brunswick house and are as follows bar, club, club, drinking hole. Now as my tastes have refined one of the bars I like to attend is the Horseshoe on Queen St. - one of the oldest in the city. Also, Devil's Martini is a nice mid-20's, early 30's bar as well as the Left Bank.