Rocky & Sarah's Travel Diary

Ontario Camping Info
---
There are a huge number of camping opportunities within the Province of Ontario, however the ones that we frequent are typically Provincially run by the Ministry of Natural Resources. The Ontario Parks website is a great resource for locating which parks are nearest to you and what you can do at them. Here we'll post our reviews of each park so that you can combine the two resources and make a decision as to what you're most interested in.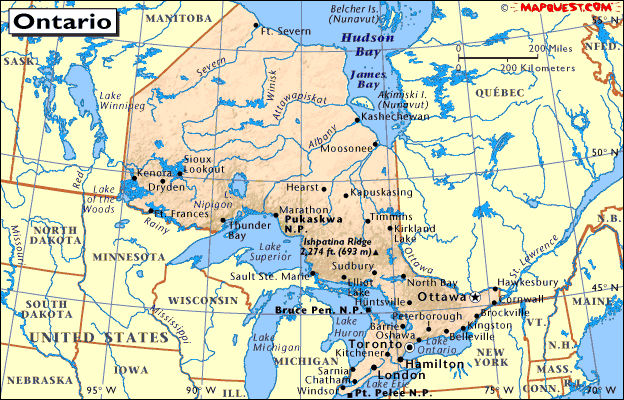 ---
Campsites

Up to this point, we have camped at six Provincial Parks:
Algonquin
Awenda
Bonnechere
Bon Echo
Presqu'ile
Silent Lake

With the exception of Algonquin, each camping trip has been of the "car camping" variety; i.e. you pull into your campsite with your vehicle and don't need to hike your stuff in. Although, if memory serves correctly, there are walk in campsites available, for more privacy at Bon Echo and Silent Lake. Personally, Algonquin is the quintessential "Canoe Camping" destination. Paddling in unspoiled wilderness with nary a soul around is (again personally) one of the greatest feelings.
---
Campsite Reviews
The campground descriptions are from the Ontario Parks website. For more detailed information please visit the Ontario Parks website.
Awenda: Nippissing Bluff drops 60 metres into Georgian Bay. Across the water is Giant's Tomb, an island where the spirit Kitchikewana rests. Below the bluff, sand, cobble and boulder beaches in sheltered Methodist Point Bay offer the best swimming. Like the kettle lake inland, they are signs of a glaciated past. From the shoreline fen to forest bog, on spirit walks and owl prowls, explore a unique convergence of wildlife and geography.
Located on a broad point of land jutting north into Georgian Bay, Awenda is well-known for great hiking, exceptional views from an escarpment well above the lake, superb cross-country skiing in winter, and fine beaches. Several campground pods offer accommodation for longer-term visitors or just drop in for a day to fish one of the inland lakes, paddle a canoe or bike on of the trails. Awenda includes electrical and non-electrical sites, group camping, picnic areas and day-use areas.
This website also has a good review and introduction to Awenda.
Our Take:
Awenda's campsites are generally pretty big, shady and private. There are a few comfort stations (i.e. showers and flush toilets), in good locations and in good repair. The showers can be scorchingly hot, however. Awenda can get really really busy, but because it is so big and the non-electrical sites so private, you hardly notice. The hiking trails are nice and well marked, and the trails open for mountain biking are good for a nice easy ride and not very difficult. The beaches are average, and can get very busy with day-trippers. Shade is limited. There is also a special "pets" beach. The water is typical for Georgian Bay, shallow and rocky at the shore. Overall, Awenda is a very nice park and highly recommended because of the amount of space you get and the variety of activities available. Turtle campground (we think) is the one with the biggest sites and most privacy. The meandering Bonnechere River once carried furs and pine logs out of this Ottawa Valley region. Now canoes move along its leisurely, ever-changing path to Round Lake where there is a buoyed, sandy beach. Trails pass an old beaver pond and marshes. An historic depot depicts the life of early forest rangers.
Our Take:
Bonnechere is nothing special, particularly when compared to some of the other campgrounds we've gone to. The beach is the highlight of the place while there isn't really much of anything else to do if the weater isn't so good. We tried this one out, and probably won't be going back. Long a favourite destination for painters and photographers, this park north of Napanee is renowned for Bon Echo Rock. This 1.5-kilometre sheer rock face rises 100 metres above Mazinaw Lake, one of the deepest lakes in Ontario, and features over 260 native pictographs – the largest visible collection in Canada. Spend a day or plan overnight adventures in this hiking and canoeing paradise of deep, blue lakes, sandy beaches, granite outcrops and lush green forests.
Our Take:
Bon Echo is very popular, and for good reason. At first glance the sites seemed to be really close together, but as we moved through the park the sites ended up being a little more private. The beaches are decent, and the comfort stations are pretty decent as well, although they do get very busy because there aren't that many. There are two campgrounds in the park - Hardwood Hills and Mazinaw. Mazinaw is on the lake, while hardwood hills is back in the "interior" (for lack of a better word). We stayed in the Mazinaw Campground, specifically the Sawmill Bay campsites (#151). There's only one main comfort station and we were essentially in a spot that allowed us to see it, but still had enough privacy. The area is wooded and due to the topography, quite varied. The beach wasn't a far walk either. We found the campground to be fairly quiet as well. One of the better sites we found was #66 or 67 (can't remember exactly).
The Midway and Fairway campgrounds were (in our opinion) downright awful. Mainly open sites, poor privacy and trailers as far as the eye could see.
There's are some nice hiking loops on the Hardwood Hills side, but you really have to drive there from Mazinaw. There are 3 loops in particular (Abes & Essen), each of varying length (4, 9 and 17km). If you are walking VERY slowly, then it will take you the time indicated on the signs (i.e. 2 - 7 hours). It took Rocky 1hr 45min to do the 9km loop. There's some hike in campgrounds there that looked very very nice.
The Hardwood Hills sites were much larger, but without a true comfort station (i.e. showers, flush toilets). The sites are back from the access road and you are very much "alone". They looked beautiful, so if you don't worry too much about the convenience of flush toilets and showers then these are very much recommended.
Bon Echo will definately be visited many more times since it's proximity and beauty are worth many more adventures. A mecca for birdwatchers every spring and fall, this peninsula south of Brighton is a major flyway for migrating birds, home to waterfowl and shorebirds, and a staging point for Mexico-bound monarch butterflies. A long boardwalk crosses wetlands where marsh birds live and fish spawn. On islands to the west, colonies of gulls, cormorants, terns and herons nest. At the tip of the park are Ontario's second-oldest operating lighthouse and the original lighthouse keeper's cottage.
Our Take:
Presqu'ile was nothing special, unless you like bird watching. Trails and other activities weren't overly thrilling, but some of the sites weren't bad. This campground is fairly similar to how we felt at BonneChere - bored. It would be great for families, but otherwise it's just not big enough or "rugged" enough for our liking. American sportsmen fished and hunted on this private lake for 40 years before it became a park. Landlocked and undeveloped, Silent Lake has a rocky shoreline, a mixed forest and marshes full of birds and wildlife best seen by canoe. A rugged trail circles the lake, and sections of groomed ski trails have been graded for mountain biking.
Our Take:
Silent Lake is fun. We both really like it here although it's location so far from us means that it takes a long time to get there (3 hours at least). The mountain biking trails are a lot of fun, although during the spring they are very wet and in some cases unpassable. We haven't gone in the late summer so no comment on how well they dry out. The lake itself is quite nice as well. Canoeing is pleasant and a peaceful way to spend your time. One word of warning however for those who plan to bike around - there are a lot of hills and changes in elevation. The sites are private and well laid out and generally speaking, even though it is fairly wooded it isn't too buggy. We've stayed primarily in the Pincer Bay campground, sites 51 and 52. THe comfort station is close but you don't get any traffic. One word of warning though is that 53, 54 are sites for larger groups so you may be a little distracted. The last two times we went, the campers were kicked out for making too much noise. But we didn't really notice.